Elevate your gifting experience
Gifting becomes a curated experience, a delightful conversation, and a showcase of exquisite taste with Maybe Sammy Cocktails.
Let us handle the details
Simply choose your premium cocktails, set your delivery date, and explore our packaging and customisation options – we'll handle the rest.
We're here for you
Got questions or need a hand? Our dedicated team is always ready to assist and guide you through your gifting journey with Maybe Sammy Cocktails.
Why Maybe Sammy?
Our premium, ready-to-drink cocktails are not your average corporate gift. They're a delightful taste of the award-winning Maybe Sammy experience, an invitation to a world where style meets spirit, where fun dances with sophistication, and where every sip is a soirée. Why settle for staid when you can gift spirited?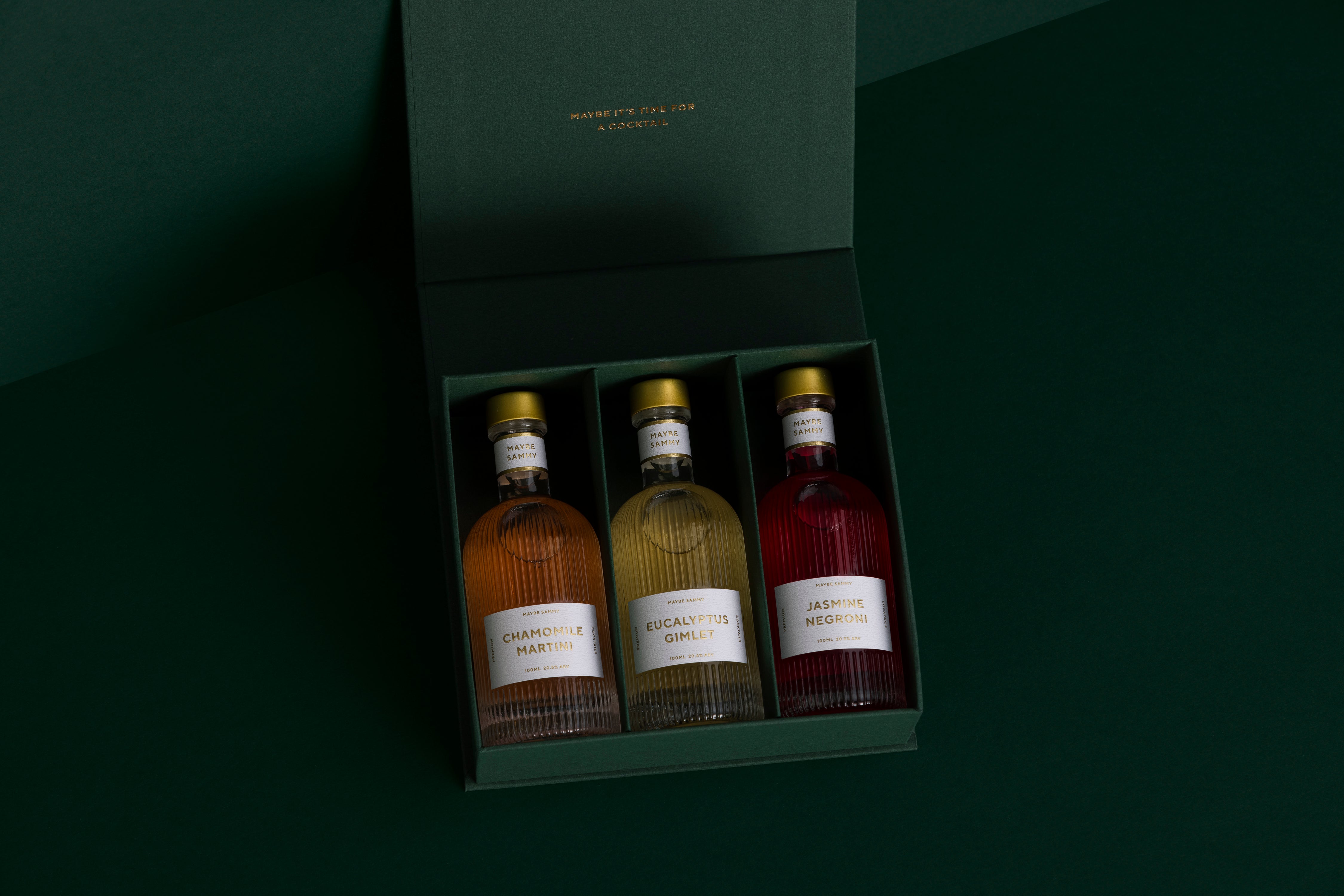 Fill out the form to receive our Corporate Gifting guide.
FAQ
What is the lead time for corporate orders?

Good things take time, and excellent things? Well, they need just a pinch more. We typically recommend a minimum of two weeks to craft your cocktail experience. Of course, depending on the size of your soirée (read: order), availability of our premium potables, and any personal touches (customisation or branding), this lead time may vary.
Is there a minimum order quantity?

Worried about the guest list? Don't be. There's no MOQ on our in-stock items. However, for orders that exceed our stock levels or require a dash of customisation or branding, an MOQ will apply.
Can we add a card, message or note to each parcel?

Absolutely! After all, what's a gift without a personal touch? We're more than happy to include gift cards with your personalised message. If you'd prefer to send your own printed materials, we'll make sure they find their way into your parcels. A memorable Maybe Sammy experience is all about the details, and we wouldn't have it any other way. T&C's may apply.
Can you deliver to multiple addresses?

Absolutely! Sharing the joy of Maybe Sammy far and wide is our speciality. For bulk orders headed to multiple addresses, we have a handy spreadsheet that you can fill out, ensuring every cocktail finds its way to a loving home.
How long do the cocktails last?

Our carefully crafted cocktails keep their charm for 24 months from the date of delivery. That's two years of spirited conversations, shared laughter, and sips of sophistication just waiting to happen.
What if I need my order quickly?

At Maybe Sammy, we're all about making the impossible, possible. If you're in a bit of a cocktail crunch, fear not. Simply make a note at the time of booking and we'll coordinate with our trusty courier partners to ensure your cocktails arrive right on cue. Because the party should always start when you want it to.